ICP-MS and ICP-OES nebulizers can aspirate liquid samples or they can have sample pumped to them.

In either case, it's important to know how much sample is delivered - especially at uptakes
below 400 ul/min., since ICP signals become much more dependent upon uptake in that region.

EPOND's XENA volumetric flow meter was developed for this reason ... it measures
in seconds instead of minutes - and give precise and reproducible answers,
irrespective of sample pH, viscosity, density and thermal properties !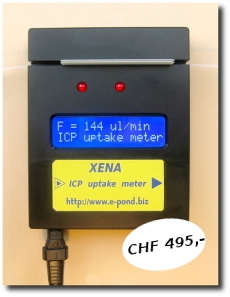 The XENA gives precise, non-contact measurements of flows in the range 5 to 2000 ul/min.

Although ICP Nebulizers are available with a range of aspirated uptakes from low ( < 10 ul/min. )
to quite high uptakes ( more than 1 ml/min. ), the use of a peristaltic or other type of pump
can extend the operating range of any individual nebulizer by a wide margin.

In such cases there is still a need for checks on uptake : pump drifts and short-term instabilities
can be flagged with an electronic meter ... peristaltic pump tubes, to cite one example,
will often give a decreasing supply of pumped sample as a tube ages.

Since your analysis methods require that sample flows be constant - whether by ICP-OES, ICP-MS, AAS or other -
the XENA can give this quality assurance.

Order by email : info @ e-pond. biz